Search

Search Bike Tours
View Bike Tours by Region
More Bike Tours
Explore Maine by Bike
What's New
Updated Draft United States Bike Route 1 (Maine) Map Book and Map Index Page:
Bike Tours
MaineDOT's 33 Loop Bike Tours are available for download on this site:
Select a region from the "View Bike Tours by Region" links located to the right.
Select the tour you are interested in from the regional listings to view tour details.
Then select the "Map" and "Bike Book" icons, in the top right column of the tour page, to download the tour map and turn-by-turn directions.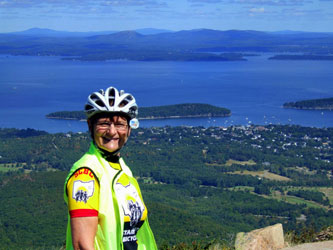 Photo Courtesy of Sara Schroedl, Stark County Bicycle Club, Ohio
Biking at its Best!
With its beautiful scenery, bike-friendly roads and shared-use paths, Maine is a great place to cycle. In the mountains, along the coast, through the woods and over the beautiful byways in between, cyclists of all ages and skill levels find that cycling in Maine is a great experience.
Let this site help you get the wheels turning. Check out our unique bike tours and plan your trip.
Select a region from the right or search below to explore bike tours in Maine. Each bike tour has a printable map and turn-by-turn instructions.